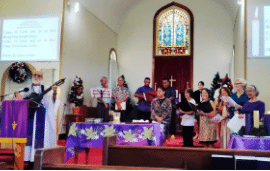 JOIN US HOLY THURSDAY 4/6 @ 6:00 pm
"Remember that Christ calls us to his table to create peace in the community." from Psalm 126
Aloha,
Let's get together on this special service, 4/6/23 –  HOLY THURSDAY, at 6:00 pm to witness the dedication of our Pastors/Reverends/Kahu's where the Foot Washing Ceremony will take place and Communion Service.  Let us be the example.  Bring a friend to share in this experience, where all are welcome.
We Welcome Our Clergy Leaders to the Pulpit: Rev. Jack Belsom, Chaplain Tim Greathouse, Rev. Robb Kojima, Kahu Wayne Higa, and Rev. Roxanne WhiteLight
Bring a friend! Let Us Be the Example!
In Person or Virtual Worship:
Facebook: https://www.facebook.com/iaoucc.maui
Web Page: https://www.iaoucc.org
88.1 FM Radio Station (within 1-mile radius of the church campus)
https://iaoucc.org/wp-content/uploads/2021/11/iaoucclogo.png
0
0
95GX7pB6K7MBYMc
https://iaoucc.org/wp-content/uploads/2021/11/iaoucclogo.png
95GX7pB6K7MBYMc
2023-02-07 10:13:43
2023-04-05 14:26:19
JOIN US HOLY THURSDAY 4/6 @ 6:00 pm